"Love and connectedness creates magic."
I created this art commission based on my clients vision for a watercolour illustration of a baby-wearing mum doing yoga. She would use this to promote her postnatal, baby-wearing yoga workshops.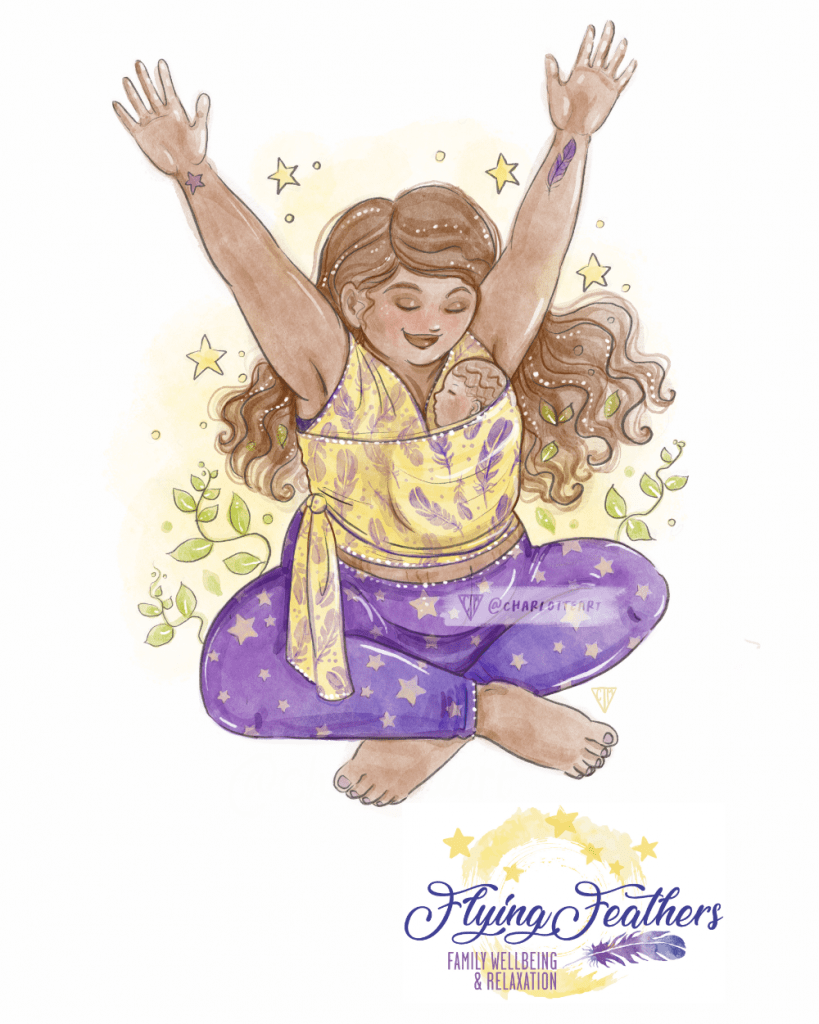 Kirsty business Flying Feathers Family is all about connecting to family and nature, so it was important to her that the artwork reflected this idea. It was important that the baby-wearing yoga focus of her classes was clearly shown in the art. She also wanted it to compliment the existing logo and branding she was using for the business. She had seen my yoga portraits and custom marketing illusrrations on Instagram. So she emailed me to find out about commissioning one of her very own!
The process of commissioning art…
Commissioning art is so exciting and a little nerve racking if you're new to it! I keep the process really simple and transparent and ensure there's nothing unexpected. First step is the practical bit. I wrote up Kirsty's ideas and the exact end results she wanted, also known as 'deliverables'. Or in other words, I wrote exactly what I would deliver to her at the end of the project! This document becomes a written quote and a commission agreement, this way both of us fully understood the project. This is how I work with all my clients.
Kirsty asked for the following pieces of art;
a watercolour style painting of a baby-wearing mother doing yoga.
A black and white outline to be used as a colouring page. (part of her yoga course materials!)
A black and white outline mandala design that would also be used as a colouring page. (For her workshops)
My starting point was the painting. I wanted to get the baby sling/wrap just right so researched correct ways of tying a baby wrap. We then discussed yoga poses and Kirsty mentioned Star pose (Utthita Tadasana) as being one of her favourites. So, I sketched up two variations of this pose to choose from. Kirsty opted for the seated version as it was more compact and easy to see the detail of the baby in the sling.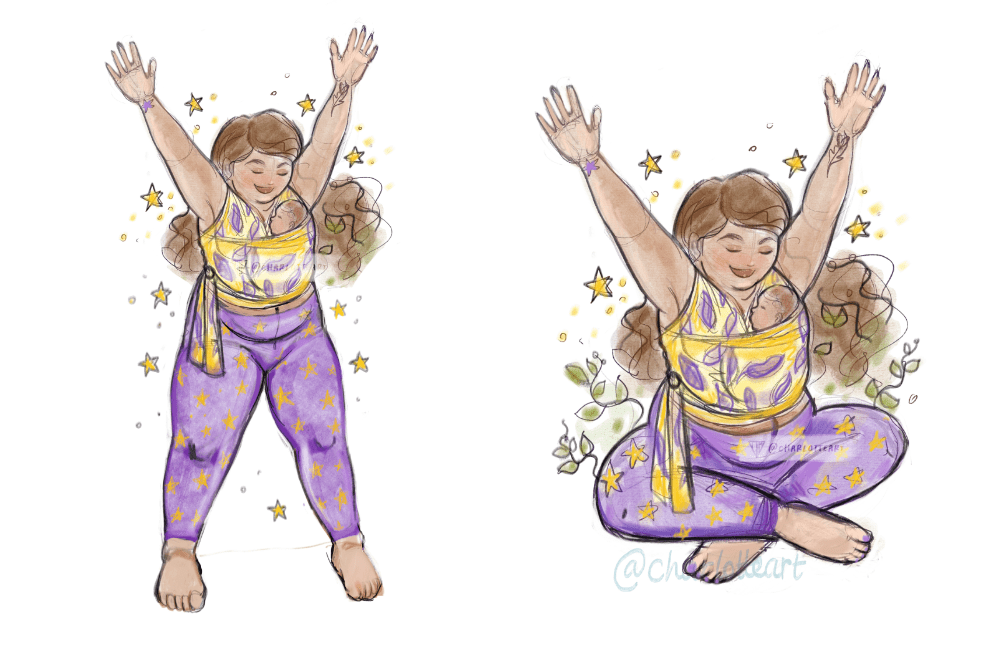 When it came to colour, I worked from her existing logo. I incorporated not only the purple and yellow elements, but the stars and feathers, adding them to the artwork. I gave the baby-wearing yoga mum a feather and star tattoo on her wrists, her baby wrap is also covered in purple feathers and her leggings covered in stars. Kirsty was also keen to have some elements that connected the image to nature and growth so I added in the leafy foliage framing the mum.
Adding new things to the project…
Half way through the project Kirsty came to me with another idea! She was so happy with the watercolour illustration that she wanted me to create folded affirmation cards (like a greeting card with a positive affirmation on it!). She wanted to give these to her course participants as a thank you for taking part. What a fantastic idea! I simply added this additional design work onto her original quote, it's no problem adding to a project half way through! To take the headache out of the printing process for her I arranged printing and delivery at cost price. My reliable local print company even delivered the cards direct to her door!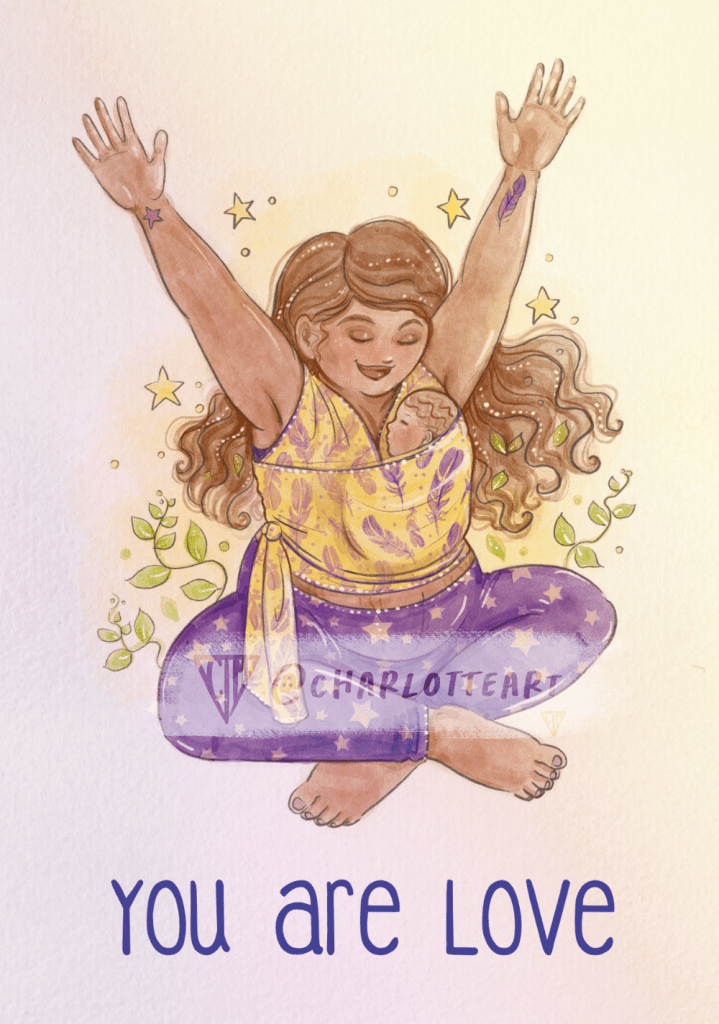 Finishing up the baby-wearing yoga art commission…
I always provide my clients with different file types at the end of a commission. The kind they will find most useful. If the client isn't sure what they need I do a 'most common' selection of files for them. This usually includes a print resolution PDF, PNG with no background of the illustration and JPEG for use online and on their social media. I can also help when a client wants to bring their images into Canva to use in their own marketing and social media designs. In this case the colouring pages needed to be suitable for easy home-printing aswell as professional printing. So, I sent the client A4 PDFs that could be easily printed at home.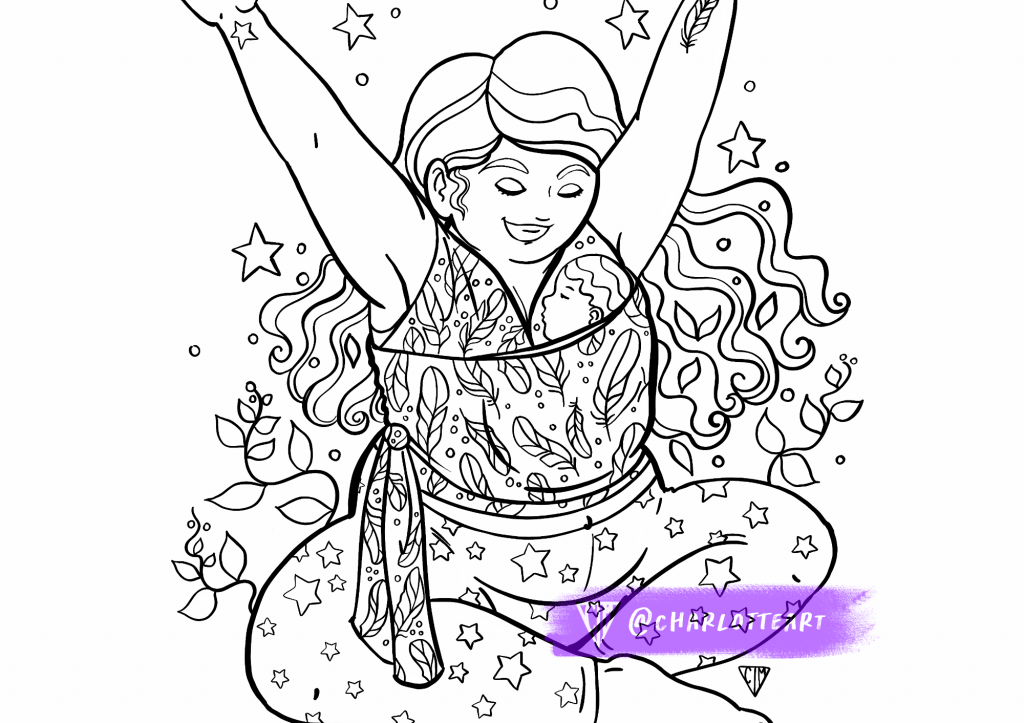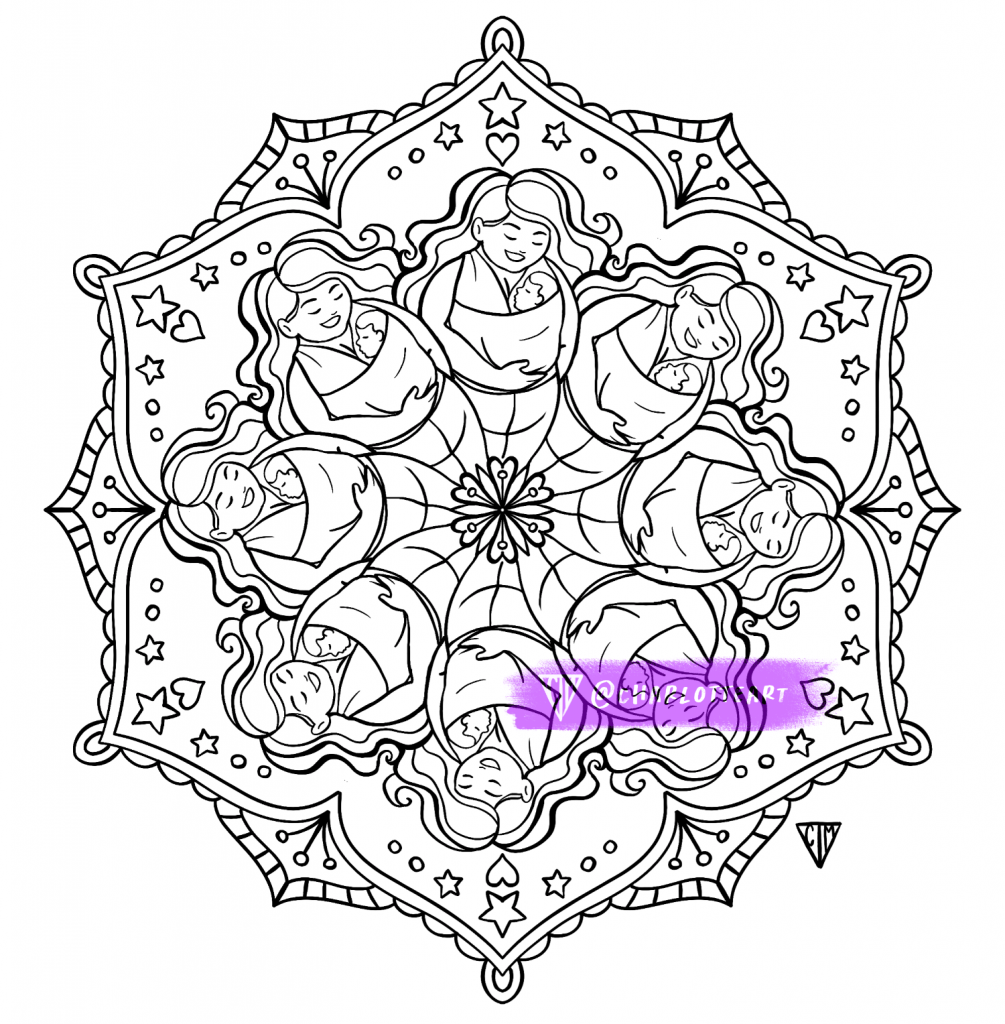 The baby-wearing yoga art commission was a success!
Kirsty was really pleased with her commissioned artwork. It was just what she had envisioned and perfect to use for marketing her yoga teaching business. It's so satisfying to be able to bring a clients ideas to life!
"Charlotte's artwork is amazing and she is an absolute pleasure to work with. I explained what I was looking for, the feelings and ideas behind it and Charlotte expressed all of this and more within the artwork she created.

I was involved throughout the process, seeing sketches and ideas before we decided on the final piece. I couldn't be happier with the artwork that Charlotte has created, and the colouring sheets have gone down a storm in workshops. I would highly recommend."

Kirsty from Flying Feathers
Read about more of my commissions and how to commission your own!…
Interesting in commissioning your own unique artwork? Not sure where to start? Just drop me an email on enquiries@charlottethomson.co.uk, I'm always happy to have an informal chat about your ideas.
You can read more about how to commission your very own artwork via my Commission me page. You can see more custom art commissions on my Portfolio. Remember I'm always happy to discuss your ideas via email and give a no obligation quote!

Visit me on Instagram and Facebook for more inspiration and daily posts about new artwork and projects. Join my mailing list for monthly newsletters and special discount codes for my Etsy store.