Charlotte Thomson-Morley is a UK based artist and illustrator. She creates body positive art inspired by yoga and spiritual themes.
Charlotte has been an illustrator for over 15 years. She has sold and exhibited art internationally, working with brands like Wonderbra and running sell-out exhibitions and art events.
Her experiences of living in a fat body and with chronic illness inspired her to switch her approach to creating art in 2013 and take a conscious approach to depicting diverse bodies. Her intention is to promote radical body acceptance and help others find a more peaceful and positive relationship with their bodies through art.
She combines her passion for depicting fat bodies with her love of Yoga and spirituality. She is a practicing Pagan and interweaves her art with magic and symbolism.
Charlotte creates her illustrations using traditional watercolour and digital painting techniques in Procreate and Affinity for iPad.
"I make no apologies for creating artwork of glorious fat bodies, it's my calling, it's my healing and that it inspires and heals others is my biggest joy."
Career
Charlotte started her art career focused on figurative fine art and became known for organising exhibitions and events. This led her to work as a gallery and events manager, facilitating commercial art exhibitions and shows run by arts charities and community projects.
For 9 years Charlotte worked for award winning creative software brand Serif, heading up their craft illustration team and guest-presenting products on live TV. She later moved to their Affinity app team where she facilitated company relationships with hundreds of artists, photographers and illustration agencies worldwide.
Charlotte has also been well known for her work with international burlesque performers and lingerie companies, from Wonderbra to What Katie did. She co-founded the Nottingham branch of Dr Sketchy's Anti-Art School.
Sustainability statement
Charlotte is committed to creating a sustainable art practice. Her art prints and greeting cards are created in small batches by small UK based companies and are printed onto eco-friendly card. When packaging products to post she uses recyclable products and zero plastic.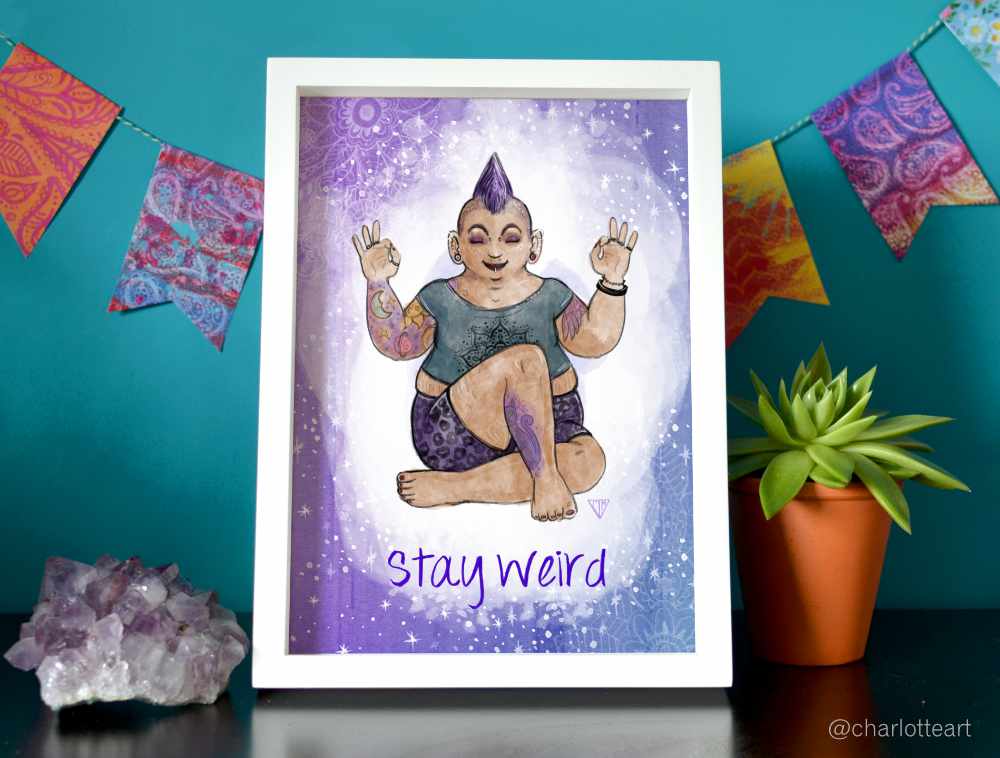 Things about me…
My favourite subject matters are people and faces, in particular capturing the unique spirit of a person.
I have had work published in Gala Darling's Book 'Radical Self Love' and the Die Gestalten book of Erotic Art 'All Allure'.
My past clients incude: Wonderbra, BBC, Tesco, The Blogcademy, Scarlet Magazine, Love My Dress, What Katie Did Lingerie and Eternal Spirits Corsetry, Game City…and many more!
Exhibited art in New York City, Chicago, Glastonbury, Nottingham and London.
I love teaching and have lectured at Nottingham Trent University and Central College (my old art college) teaching students anything from professional practice to fashion illustration and life drawing.
Co-founded the Nottingham branch of Dr Sketchy's Anti Art School,  the burlesque life drawing class with my wonderful friend and burlesque artiste Scarlett Daggers.
I spent 4 years co-organising Danse Macabre & Pit of Curiosities art events which were featured in Bizarre Magazine.
A few of my favourite things…
Yoga
Buying books
Feminism
Witchcraft and Paganism
Tattoos
Charity shops
Buying yarn…and crocheting it into a hat.
Star Trek
Punk music
Illustrations by Quentin Blake, Shirley Hughes, Mike Mignola, Berni Wrightson & Bruce Timm
Art by Frida Kahlo & Joseph Cornell
Walks in the woods
Peanut Butter
Frogs
My lovely husband Dave, our son and two rescue cats Mina and Wednesday.